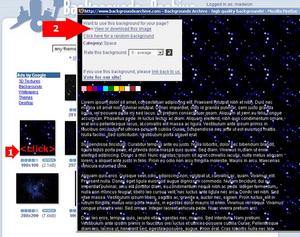 We have tons of backgrounds on this site, both seamless tileable backgrounds and wallpapers. Browse through the galleries and check out the previews until you find one you like.

When you click on the image or press sample for desktops (1), you get a popup screen with a preview. Click on the coloured boxes a bit to see how the background works with different text colours. Found the background you like? Click on "View of download this image" or a resolution (2).

Then right-click on the image and choose "save image as..." to save it on your own computer. It doesn't matter where you save it, just remember where you put it.